Covid-19 health measures: we accept group bookings. Packages are liable to change, and cancellations may occur if the health crisis continues. We appreciate your cooperation.
If you are a teacher or leisure-centre leader,
we can help you organise your trip to the Vercors.
For an excursion to the heart of the Vercors
The Grotte de Choranche site
The guides at the Grotte de Choranche host children for a journey through time – of more than 70 million years!
All year round, we arrange your trip and our guides tailor their talks and the tour's educational content to the age of their audience.
During school terms, you can fully enjoy the superb setting of the Choranche Cirque during a full day, combining the tour of the cavern with a prehistory session (for primary and lower-secondary pupils) or a landscape-interpretation session (for secondary pupils).
You also have the option of discovering Pont-en-Royans and its hanging houses, after visiting the Grotte de Choranche or the  Musée de l'Eau .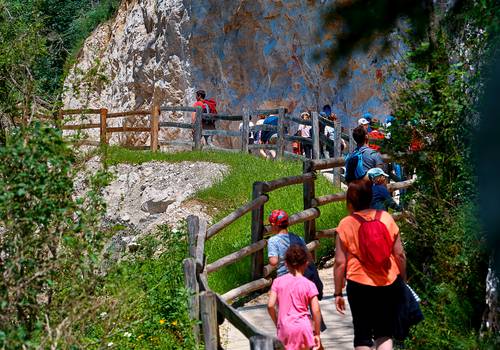 For an excursion near the Isère / Drôme boundary
Tour of the Jardin des Fontaines Pétrifiantes
For your excursions, the Jardin des Fontaines Pétrifiantes offers children a unique experience in a natural setting sculpted by water.
The gardeners tailor their talks and accompany the children on a one-hour tour to discover the attraction's various settings.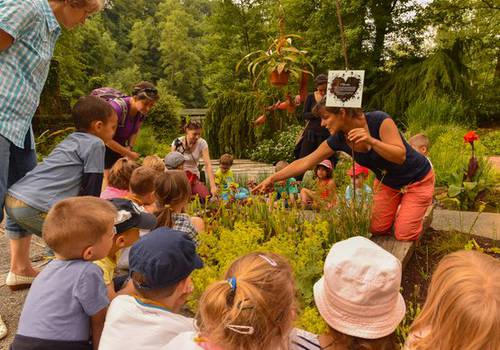 The Paddlewheel Boat "Royans-Vercors"
An unusual discovery experience on a boat, at the foot of the Vercors, awaits you. Children will be wide-eyed.
During the hour-long cruise, the hostess gives a live commentary, tailoring her explanations to the age of her audience.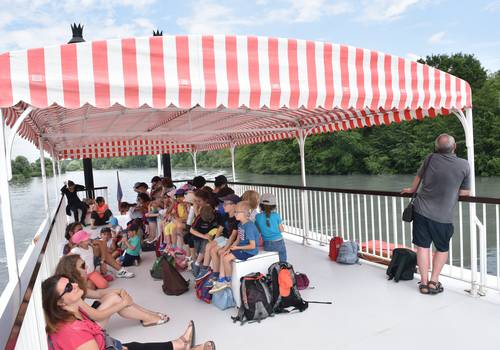 Tour of the Grotte de Thaïs 
With their guide, and using educational materials, the children will discover our ancestors and how climates, landscapes and wildlife have evolved.
In the cavern, a reconstructed settlement gives the young visitors an immersive insight into the life of Homo Sapiens. A fire lighting demonstration will send them travelling thousands of years back in time.
During their one-hour tour, they will follow their guide to discover the mystery of how the cavern was hollowed out.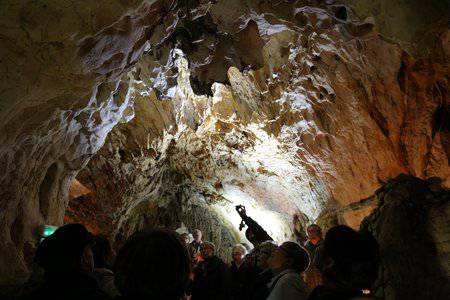 Examples of a full-day programme
A Day at the Grotte de Choranche
Morning: Guided tour of the Grotte de Choranche
Lunchtime: Picnic on the terrace (during school terms only)
Afternoon: Interpreting the landscape (depending on children's age)
From €9.30€/child
A Day in the Bourne River Gorge
Morning: Guided tour of the Grotte de Choranche
Lunchtime: Picnic in the Bourne river leisure area in Pont-en-Royans (a 15 min drive away)
Afternoon: Tour of du Musée de l'Eau (not included in the price)
From €5.30/child
Around Saint-Nazaire-en-Royans
Morning: Guided tour of the Grotte de Thaïs in Saint-Nazaire-en-Royans (1hr)
Lunchtime: Picnic at the leisure area in Saint-Nazaire-en-Royans
Afternoon: cruise with commentary on the Paddlewheel Boat "Royans-Vercors", return trip from Saint-Nazaire-en-Royans (1hr)                                                            
From €10.30/child
By the Water: Garden and Cruise
Morning: Guided tour of the Jardin des Fontaines Pétrifiantes (1hr)
Lunchtime: Picnic in the village of La Sône or in the leisure area in Saint-Nazaire-en-Royans
Afternoon: Cruise with commentary on the Paddlewheel Boat "Royans-Vercors", on the River Isère (1hr)                                               
From €10.70/child
1 day, 3 experiences 
Morning: Guided tour of the Jardin des Fontaines Pétrifiantes in La Sône (1hr)
Lunchtime: Picnic in the village of La Sône or in the leisure area in Saint-Nazaire-en-Royans
Afternoon: Cruise with commentary on the Paddlewheel Boat "Royans-Vercors" (1hr) and guided tour of the Grotte de Thaïs (1hr) in Saint-Nazaire-en-Royans
From €12.90/child
Adult Group booking request form