A cruise with commentary
aboard the Bateau à Roue
Between Valence and Grenoble, at the gateway to the Vercors, our Bateau à Roue sails the River Isère and the River Bourne.
Come aboard for a river journey with our commentary in a peaceful verdant setting, for an interlude of relaxation and discovery between Saint-Nazaire-en-Royans and the village of La Sône.
Architecture
The Bateau à Roue "Royans-Vercors" takes you cruising to discover outstanding pieces of architecture. Admire the Aqueduct of Saint-Nazaire-en-Royans from a fresh perspective.
When approaching La Sône, discover the village's history including former factories and châteaux.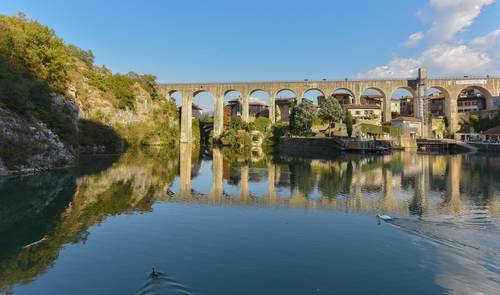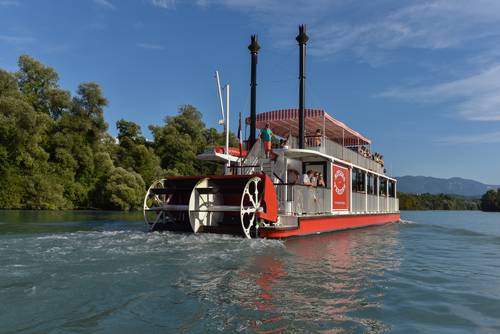 Local wildlife and fauna
Marshes and reed beds are the bond between earth and water. A habitat for water birds, these reeds and white willows are one of the main ornithological spots in the Auvergne-Rhône-Alpes region.
Observe mute swans, Eurasian coots, and the other birds present here.
Vercors landscapes
The backdrop to your cruise is a unique landscape: the dizzying cliffs of the Vercors lie in store. Sail between reed beds, crops and stretches of woodland – scenery that will catch the eye of children and adults.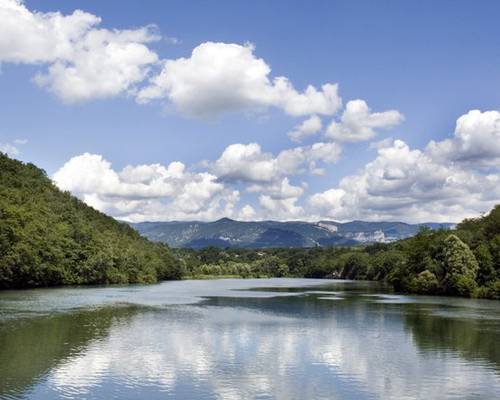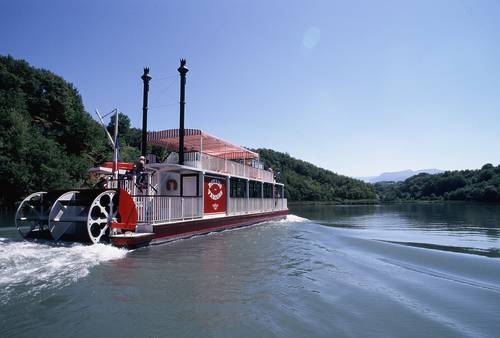 Going with the flow
The Bateau à Roue "Royans-Vercors" gives your cruise a flavour of Louisiana. Soak up the character of this special experience, while communing with nature.
 Aboard the Bateau à Roue,
savour superb views of the River Isère
Navigating between the Departments of Drôme and Isère, the Bateau à Roue "Royans-Vercors" takes you to discover the wildlife and flora along the Rivers Isère and Bourne.
30 years of history aboard the Bateau à Roue "Royans-Vercors"
The Société de Navigation and d'Activités Touristiques was established in 1987, and purchased a first passenger boat, "Le Valence", in Saint-Nazaire-en-Royans.
Early success prompted the owners to build another, larger vessel in 1991, able to carry up to 140 passengers – this is the "Royans-Vercors", which we are still operating today. 
It is inspired by the traditional river boats of Louisiana, which sailed the Mississippi in the 19th century. It is easy to recognise with its chimneys and paddlewheels.
In 2014, our Bateau à Roue began a customer satisfaction and continual improvement programme that earned the Qualité Tourisme mark, renewed in 2019 for five years.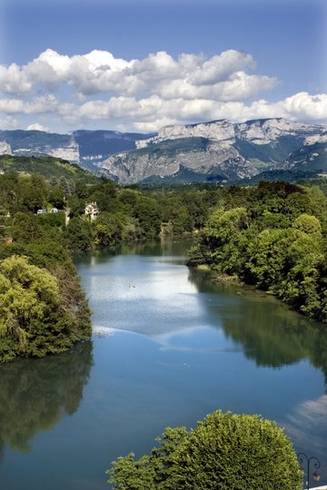 Discover three other natural attractions
to visit locally
NO BOAT BECAUSE OF A TECHNICAL PROBLEM